Twitch Browser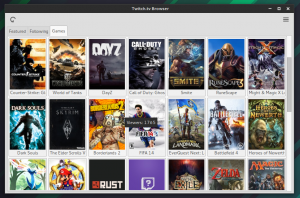 This is just a little Side Project, a Desktop Application that lets you browse through Twitch.tv Streams, Channels and open them in your Video Player (VLC, MPlayer, MPV, …). No need for a CPU heavy Flash Plugin. For now it's for Linux only, but given it is written in Python, a Port to other Systems shouldn't be difficult. You can get the latest from here.
This Project uses "Livestreamer" to start the streams, more information on their website livestreamer.tanuki.se
Background Story:
Sometimes i like to watch a Stream on Twitch or Justin.tv, but the Flashplayer is always acting up, stutters and eats my CPU. Then I came across Livestreamer, which is a Commandline Program.
And to avoid typing the specific Terminal Command over and over, I developed this GUI Software.
Now I will focus more on DeskCon again.